Defining window-boundaries for genomic analyses using smoothing spline techniques
Genetics Selection Evolution
2015
47:30
Received: 3 October 2014
Accepted: 4 February 2015
Published: 17 April 2015
Abstract
Background
High-density genomic data is often analyzed by combining information over windows of adjacent markers. Interpretation of data grouped in windows versus at individual locations may increase statistical power, simplify computation, reduce sampling noise, and reduce the total number of tests performed. However, use of adjacent marker information can result in over- or under-smoothing, undesirable window boundary specifications, or highly correlated test statistics. We introduce a method for defining windows based on statistically guided breakpoints in the data, as a foundation for the analysis of multiple adjacent data points. This method involves first fitting a cubic smoothing spline to the data and then identifying the inflection points of the fitted spline, which serve as the boundaries of adjacent windows. This technique does not require prior knowledge of linkage disequilibrium, and therefore can be applied to data collected from individual or pooled sequencing experiments. Moreover, in contrast to existing methods, an arbitrary choice of window size is not necessary, since these are determined empirically and allowed to vary along the genome.
Results
Simulations applying this method were performed to identify selection signatures from pooled sequencing F ST data, for which allele frequencies were estimated from a pool of individuals. The relative ratio of true to false positives was twice that generated by existing techniques. A comparison of the approach to a previous study that involved pooled sequencing F ST data from maize suggested that outlying windows were more clearly separated from their neighbors than when using a standard sliding window approach.
Conclusions
We have developed a novel technique to identify window boundaries for subsequent analysis protocols. When applied to selection studies based on F ST data, this method provides a high discovery rate and minimizes false positives. The method is implemented in the R package GenWin, which is publicly available from CRAN.
Keywords
Quantitative Trait LocusWindow SizeInflection PointSmoothing SplineFitted Spline
Background
A recurrent question that arises during the analysis of high-density genotyping or sequencing information is how to best analyze noisy data. This question is particularly relevant when analyzing sequence data from pooled samples of populations for which, depending on the number of individuals pooled and the level of coverage per site, estimates of individual base pair (bp) allele frequencies can be very imprecise [1]. To account for this variability, methods based on estimating parameters over "windows" have been successfully used to reduce sampling error while retaining true signal in studies aimed at identifying evidence of selection in populations [2-5]. In general, window-based techniques treat observations from individual genetic markers, often single nucleotide polymorphisms (SNPs), as samples that are representative of a phenomenon that affects isolated regions of the genome instead of independent SNPs. In studies aiming at identifying selection signatures, genetic hitchhiking [6] makes this approximation quite reasonable. It is also useful for other applications since, with the availability of increasingly denser marker arrays, linkage disequilibrium (LD) between SNPs within any particular region is likely to be substantial. Therefore, a summary statistic can be computed across a region or a window, instead of for individual SNPs. This summary statistic can be as simple as taking the mean of single-SNP estimates [3] or it can take a more complex form such as an aggregated measurement of divergence according to the Fisher's angular transformation [4,7]. By using a sample of observations that are each considered as an estimate of the same phenomenon, as opposed to treating observations individually, sampling error may be markedly reduced, while retaining true signal. An inherent assumption of these methods is that the individual marker estimates within a window are independently and identically distributed.
Two types of approaches for delineating window boundaries are commonly used. These are referred to as "distinct windows", for which markers in different windows do not overlap, and "sliding windows", for which they do. When using distinct windows, the genome is divided into separate segments of equal length, with the length defined according to either the number of SNPs [4,8], or the number of base pairs (bp) [9]. A summary statistic that captures genomic patterns across each window, such as the mean F ST , is then calculated over all SNPs within a defined window. Distinct windows often succeed at reducing the sampling error of estimates while reducing the number of statistical tests performed, but the placement of windows is random or sequential, so power may be lost if window placement inadvertently splits one meaningful region into adjacent windows. In a sliding window approach, a window length (again in number of bp or SNPs) is defined and windows are incrementally advanced along the genome, a single or a few SNPs at a time, to ensure that every possible window is considered [5,10,11]. However, when using such an approach, the number of tests is not dramatically reduced since a new window is defined for every SNP or every few SNPs. In addition, highly correlated statistics are generated, since each window overlaps with its neighboring windows.
Beyond the limitations mentioned above, in the case of either distinct or sliding windows, determining the proper window size is typically subjective and researchers often only loosely justify their choice of size [10,12], or acknowledge that their choice is arbitrary [2,13]. This is unsatisfying for two reasons. First, there should be an optimum window size that balances noise reduction with signal identification to maximize power, and identifying this optimum would be ideal. Second, a subjective definition of window size typically leads to the use of a uniform window size across the genome, which is not appropriate since various genetic parameters, including recombination rate and LD, vary along each chromosome.
To address these problems, we have developed an empirically driven framework to define window boundaries, while simultaneously determining their ideal size. Our method retains the benefits of distinct windows in that it reduces the total number of tests and generates window values that are not inherently correlated, while also borrowing from sliding-windows by reducing the risk of erroneously dividing signal between adjacent windows. In addition, the ideal window size is automatically chosen and allowed to vary along the genome. The method is based on first fitting a cubic smoothing spline [14] to single-SNP estimates of a parameter such as F ST [15]. Previously, various forms of smoothing splines have been used to analyze genomic information [16,17], but not to define windows. The smoothness of the spline is chosen by leave-one-out cross-validation, to ensure that it optimally predicts single-SNP values. The second derivative of the spline is then computed and inflection points are identified. The inflection points of the fitted spline isolate the positions where the spline switches from tending towards a local maximum to a minimum, or vice versa, and therefore DNA between these positions may correspond to a correlated region of the genome. Therefore, inflection points are treated as window boundaries and a distinct-window analysis proceeds. Using inflection points to define window boundaries virtually ensures that any peak in the fitted spline is placed in a single window instead of split across windows. Determining the fitted spline's smoothness by cross-validation leads to ideal window-sizes. Moreover, although a uniform smoothness is chosen for the fitted spline, this does not explicitly restrict the location of its inflection points, thereby allowing non-uniformity of window sizes.
In this paper, we describe a smoothing spline-based approach to define windows using genomic data. In addition, we apply the method to both simulated and real data to identify signatures of selection, and demonstrate its advantages over previously used techniques. Although we present this method in the context of F ST -based studies, it can be applied to several other approaches that require the pooling of genotypic data over windows. This method has been implemented in a freely available R package, GenWin.
Results
Simulations
Simulations showed that both sliding windows and distinct windows of five or 10 SNPs identified markedly fewer QTL than larger window sizes (Table
1
). With such small windows, data varied greatly and therefore the significance thresholds that were set in the simulations without selection were so high that it was extremely difficult to exceed them. The positive aspect of this, however, is that these four methods identified fewer false positives than observed with larger window sizes. In fact, the distinct window methods with five or 10 SNPs per window identified the fewest false positives of all methods investigated. For these methods, however, low false positive rates came at the expense of high detection rates. For instance, either sliding or distinct windows of only five SNPs identified, on average, fewer than 25% of the simulated QTL, which was substantially less than the other methods. Conversely, all sliding and distinct window implementations of 25 or more SNPs, as well as the spline-window method, identified a similar number of QTL on average, all with mean detection rates greater than 50% of the total number of QTL but less than 66.67%. It should be noted that, depending on the allele frequencies and effect sizes of QTL at the beginning of selection, it is not expected that every QTL will be detectable, so maximum detection rates lower than 66.67% are not necessarily surprising. Between methods, the number of false positives that were identified varied greatly, with the sliding window methods showing the greatest number of false positives. For this reason, the ratio of detected QTL to false positives was used to evaluate the performance of each method. Excluding the 5- or 10-SNP window methods due to their low detection rates, the ratio of detection rate to false positive rate of the spline-window method (4.7) was more than double that of the second best-performing method, which used distinct windows of 25 SNPs (2.2).
Table 1
Method comparison using simulated data
| Method | Mean number of detected QTL | Mean number of false positives | Ratio |
| --- | --- | --- | --- |
| Sliding-5 | 6.33 | 6.39 | 0.990610329 |
| Sliding-10 | 13.29 | 4.16 | 3.194711538 |
| Sliding-25 | 17.6 | 75.1 | 0.234354194 |
| Sliding-50 | 18.38 | 232.58 | 0.079026572 |
| Sliding-100 | 18.23 | 488.19 | 0.037342018 |
| Sliding-250 | 18.41 | 2082.54 | 0.008840166 |
| Sliding-500 | 19.51 | 9065.05 | 0.002152222 |
| Distinct-5 | 7.42 | 0.12 | 61.83333333 |
| Distinct-10 | 12.19 | 0.99 | 12.31313131 |
| Distinct-25 | 16.75 | 7.67 | 2.183833116 |
| Distinct-50 | 18.01 | 11.27 | 1.598047915 |
| Distinct-100 | 17.73 | 9.52 | 1.862394958 |
| Distinct-250 | 19.49 | 31.53 | 0.618141453 |
| Distinct-500 | 18.34 | 28.47 | 0.644186863 |
| Spline Windows | 15.98 | 3.4 | 4.7 |
Two important remarks should be made. First, of all the methods, the ones that used 5- or 10-SNP distinct windows had the most favorable ratio of detection rate to false-positive rate (61.8 and 12.3, respectively), but this was at the cost of identifying notably fewer QTL. Therefore, if the aim is to identify only the most promising sites, a suitable approach would be to adopt a sliding or distinct window method with a relatively small window size and take only the most outlying windows for further study. This approach is likely to find extreme QTL, and by limiting the search to only a few of these, the expectation is that the number of false positives will be small. The second remark is that, for any method, the ideal window size is determined by a complex interplay between the true signal in the data and the amount of error that results from sampling and genotyping. Therefore, there is no single 'ideal' window size that will hold across experiments but, instead, the best window size will vary depending on the genetic structure underlying the trait under study and the genotyping methods applied. The spline-window method provides a useful alternative by letting the variability in the data determine the appropriate window size.
Real data analysis
The spline-window analysis of the previously published maize data identified 23 unique regions that exceeded the 99.9% empirical outlier level and which were expected to be associated with selection (Table
2
). Within these 23 regions, 17 overlapped with those identified in the previously published analysis [
5
], while six were novel regions that had not been identified using sliding windows (in one case two spline-based regions corresponded to a single previously reported region). In addition, 12 of the regions that had been identified in the previous study [
5
] were no longer outliers according to the spline-window analysis. As expected, a substantial amount of variability in the size of windows was observed using the spline method. While the previous study restricted the size of all windows to precisely 25 SNPs, the spline approach suggested that approximately 64.3% of windows should have less than 25 and 34.0% should have more than 25 SNPs, with only 1.6% of windows having exactly 25 SNPs (Figure
2
). Moreover, 10% of the windows had more than 51 SNPs and the maximum fitted window size was 349 SNPs, which implies that a large amount of variability in the noisiness of the data will be inappropriately accounted for if a single window size is used.
Table 2
Application of sliding window and spline methods to empirical data
25-SNP sliding window outlier regions

Spline-window outlier regions

Chromosome

Start position

End position

Start position

End position

1

11 588 371

11 892 655

11686850

11872650

1

-

-

54485850

54564950

1

122 802 601

122 831 005

122 790 650

124 093 750

1

164 947 151

165 229 053

-

-

2

35 519 192

35 682 346

35 520 750

35 648 950

2

41 731 365

41 755 299

41 728 850

41 770 550

2

71 306 928

71 378 431

71 314 050

71 377 150

2

101 062 088

101 069 759

101 037 150

102 026 750

2

160 786 800

160 802 631

-

-

3

177 548 249

177 681 538

177 671 050

177 749 050

3

-

-

207 464 650

211 847 850

3

215 594 013

215 778 968

-

-

4

66 924 240

66 935 990

-

-

4

82 825 221

82 858 997

82 818 050

82 860 750

4

113 455 144

122 680 452

113 401 750

114 347 650

120 298 350

122 682 750

4

-

-

140 791 850

140 834 650

4

191 396 139

191 400 390

-

-

5

-

-

24 460 850

24 539 450

5

30 083 952

30 139 317

30 034 650

30 120 950

6

41 490 195

45 914 266

41 517 550

45 921 450

6

75 749 792

76 382 768

76 072 450

76 176 350

6

-

-

86 671 650

86 727 750

6

119 682 711

119 692 810

119 683 750

119 707 650

7

146 671 419

146 771 150

-

-

7

167 742 364

167 809 449

-

-

8

92 876 772

94 647 137

94 633 950

94 680 950

8

118 681 864

118 767 444

-

-

9

26 149 935

26 181 104

25 947 850

26 183 950

9

101 071 793

101 097 690

-

-

10

7 635 223

8 719 903

8 703 450

8 718 950

10

18 846 988

19 024 881

-

-

10

25 251 913

25 264 660

-

-

10

97 503 134

97 542 318

-

-

10

-

-

136 171 150

136 259 150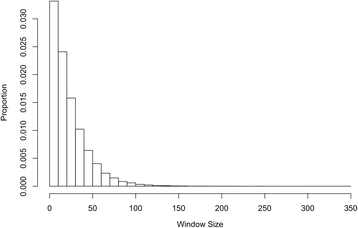 In addition, the spline-window approach appeared to be superior at separating outlying regions from the background variability of the data compared to the previous analysis that used 25-SNP sliding windows. While sliding windows necessarily lead to correlations between adjacent windows, causing an outlying window to be surrounded by other windows that are also outlying or nearly outlying, spline-based windows do not share this property. Specifically, defining windows based on smoothing splines allows each significant or outlying region to have a clearly defined start and stop position at the underlying inflection points of the spline. Therefore, except in cases of selective-sweeps that spanned several Mb, outliers identified based on the inflection points of the fitted spline were generally well distinguished from their neighbors (Figure
3
).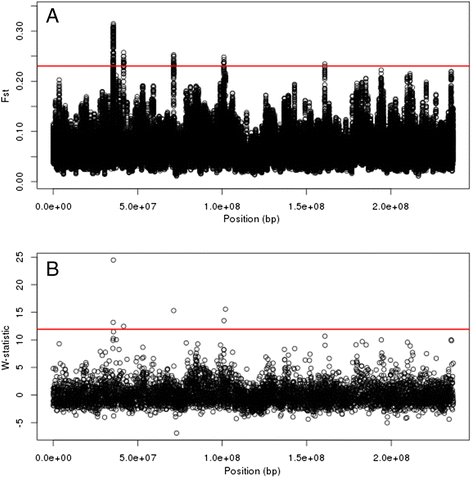 Discussion
This study demonstrates that arbitrarily defining a window size for the analysis of high-throughput genotypic data and then proceeding to analyze an experiment across sliding or distinct windows of the specified size has some limitations. Small window sizes tend to decrease the potential discovery rate of the study, while large window sizes tend to create an abundance of false positives. The spline-window method avoids both extremes by using patterns in the data to define windows. The windows are placed at potential peaks, and their size is determined by the variability present in the data.
The results of the simulation analysis established that the spline-window method achieved a balance between discovery rate and false positive rate that was considerably better than any of the other methods that were examined and identified a comparable number of QTL. Our re-analysis of previously published data demonstrated that this technique performs well in experimental situations. The simulated scenario used here is expected to represent the biology of the previously published data [5]. Based on that assumption, the results suggest that the detection rates of the spline-window and 25-SNP sliding window methods should be similar, while the false positive rate of the sliding window method is substantially higher than that of the spline-window approach. This is consistent with the identification of 23 selected regions with the spline-window method and of 28 regions in the previously published data [5], of which 17 overlapped.
The spline-window method has potential to be used across multiple types of studies, although in this study, it was used in the context of F ST -based scans for selection signatures. This method may be applicable to various situations where noisy genomic data are divided into windows for analysis. For example, the di statistic [25], evaluations of heterozygosity, e.g. [2], and similar metrics that can be computed for individual loci or across windows fit into this framework very well, since a smoothing spline can be fitted to single-locus estimates of any statistic before window-based smoothing is performed. Extending this approach to statistics such as Tajima's D [26] or extended haplotype homozygosity [27] and variants thereof may be possible as well, but this is not straightforward since these statistics are computed across windows in the first place, and therefore the values that the spline should be fitted to are not as clear.
There are some areas of study that may prove fruitful to improve and extend this method. The first involves the smoothing parameter, λ. When this parameter is chosen via cross-validation, a single value is used for each chromosome. Since recombination rates, and therefore levels of genomic variability, can vary substantially along a chromosome, this approach may benefit from an extension to include multiple smoothing parameters that are fitted simultaneously to different regions within a chromosome. For example, an ideal spline may be smoother (resulting from a larger smoothing parameter) in centromeric and peri-centromeric regions than elsewhere. Secondly, it is difficult to adequately estimate LD from pooled sequencing data. There has been progress towards this goal, as described in [28], but the short length of the sequencing reads that are currently obtained, relative to typical distances of LD decay, represents a substantial limitation. Spline-windows are likely determined by underlying levels of LD and recombination, and therefore there may be a possibility to extend this general approach as a means to assess LD in pooled sequencing situations.
Conclusions
An important component of the analysis of data in studies that involve high-density genomic sequence information is how to best group regions of the genome for analysis. This is particularly relevant to identify selection signatures based on pooled sequencing data, for which estimates of features, such as F ST , contain substantial sampling error. We proposed a spline-based method that simultaneously defines ideal boundaries and variable sizes for windows of observations that may be analyzed together. Simulations coupled with empirical data analysis demonstrated that the power of this method is similar to that of existing methods but that it is less susceptible to false positives. We have made this method freely and publicly available in the R package GenWin.
Declarations
Acknowledgements
This work was funded in part by the DOE Great Lakes Bioenergy Research Center (DOE Office of Science BER DE-FC02-07ER64494). We are grateful for the computational resources and assistance of the University of Wisconsin-Madison Center for High Throughput Computing (CHTC) in the Department of Computer Sciences. The CHTC is supported by UW-Madison and the Wisconsin Alumni Research Foundation, and is an active member of the Open Science Grid, which is supported by the National Science Foundation and the U.S. Department of Energy's Office of Science. T.B. was supported by the University of Wisconsin Graduate School and by funding to the University of Wisconsin-Madison Plant Breeding and Plant Genetics program from Monsanto.
Authors' Affiliations
(1)
Department of Plant Sciences, University of California, Davis, USA
(2)
Department of Animal Sciences, University of Wisconsin, Madison, USA
(3)
Department of Biostatistics and Medical Informatics, University of Wisconsin, Madison, USA
(4)
Department of Agronomy, University of Wisconsin, Madison, USA
(5)
Department of Energy Great Lakes Bioenergy Research Center, University of Wisconsin, Madison, USA
(6)
Department of Dairy Science, University of Wisconsin, Madison, USA
Copyright
© Beissinger et al.; licensee BioMed Central. 2015
This is an Open Access article distributed under the terms of the Creative Commons Attribution License (http://creativecommons.org/licenses/by/4.0), which permits unrestricted use, distribution, and reproduction in any medium, provided the original work is properly credited. The Creative Commons Public Domain Dedication waiver (http://creativecommons.org/publicdomain/zero/1.0/) applies to the data made available in this article, unless otherwise stated.