Research article

Open Access
Genome-wide scan reveals population stratification and footprints of recent selection in Nelore cattle
Genetics Selection Evolution
2018
50:22
Received: 30 May 2017
Accepted: 20 February 2018
Published: 2 May 2018
Abstract
Background
This study aimed at (1) assessing the genomic stratification of experimental lines of Nelore cattle that have experienced different selection regimes for growth traits, and (2) identifying genomic regions that have undergone recent selection. We used a sample of 763 animals genotyped with the Illumina BovineHD BeadChip, among which 674 animals originated from two lines that are maintained under directional selection for increased yearling body weight and 89 animals from a control line that is maintained under stabilizing selection.
Results
Multidimensional analysis of the genomic dissimilarity matrix and admixture analysis revealed a substantial level of population stratification between the directional selection lines and the stabilizing selection control line. Two of the three tests used to detect selection signatures (FST, XP-EHH and iHS) revealed six candidate regions with indications of selection, which strongly indicates truly positive signals. The set of identified candidate genes included several genes with roles that are functionally related to growth metabolism, such as COL14A1, CPT1C, CRH, TBC1D1, and XKR4.
Conclusions
The current study identified genetic stratification that resulted from almost four decades of divergent selection in an experimental Nelore population, and highlighted autosomal genomic regions that present patterns of recent selection. Our findings provide a basis for a better understanding of the metabolic mechanism that underlies the growth traits, which are modified by selection for yearling body weight.
Background
Human/animal interactions in livestock production have led to major phenotypic changes in animal traits, which are mainly due to the effect of selection [1]. Anthropogenic selection, along with natural selection and adaptation, have increased the frequency of favorable alleles and resulted in changes in the frequencies of their surrounding loci [2], thereby establishing genomic signatures of positive selection. In turn, the methods used to identify this type of signature of selection represent powerful tools to detect evidence of selection during the process of animal domestication or breed formation, and ultimately they aid in elucidating the mechanisms that underlie the morphological, productive and functional traits of a species [3].
Cattle are domestic animals used worldwide, with two divergent groups: taurine (Bos primigenious taurus) and indicine (Bos primigenious indicus) cattle, each of which includes several breeds, which have been established for different purposes by humans. One common strategy for investigating past selection in cattle involves the systematic comparison of the genomes of breeds that have evolved under different selection regimes, e.g., dairy versus beef breeds [4, 5]. The motivation behind such comparisons is to identify strongly differentiated genomic regions between different groups of animals. However, analysis of within-breed stratification may allow the identification of signatures of selection within a single breed for which genetically distinct lines have been established. One example of such a study in cattle involved Holstein lines that were divergently selected for milk yield, in which the identified signatures of selection co-localized with known quantitative trait loci (QTL) that affect milk traits [6, 7].
Nelore cattle (originally named Ongole in India) are an indicine breed, which is predominantly raised in Brazil for meat production. Apart from the national Nelore breeding programs, there is an experimental program with three selection lines that has been running since 1978 at the APTA Beef Cattle Center—Institute of Animal Science (IZ), Sertãozinho—Brazil. This program was initiated to demonstrate to producers the benefits of selection for growth traits and its economic impact on the bovine industry [8]. Briefly, three selection lines were established in 1980 by dividing an experimental herd representative of the main Nelore lineages that currently exist in Brazil. Since then, a line referred to as Nelore Control (NeC) has been maintained under stabilizing selection, in which animals with a yearling body weight (YBW) close to the average of the contemporary group are annually selected for reproduction. The two other lines, Nelore Selection (NeS) and Nelore Traditional (NeT), have independently undergone selection for increased YBW. While the NeS and NeC lines are maintained as closed lines, the NeT line has received sires from the two other lines (7 from NeC and 47 from NeT) and commercial herds.
After almost 40 years of selection, distinct phenotypic differences are observed between the lines undergoing stabilizing and directional selection, including differences in average body weight at various ages, body measurements, scrotal circumference and carcass quality [8–10]. Inbreeding level in these lines is controlled by adopting breeding strategies such as exclusion of siblings as sires, short mating time for each selected sire (only two seasons), and avoidance of mating between closely-related animals. In 2003, the observed coefficients of inbreeding in the three lines ranged from 4 to 4.3% [11], while in animals born in 2012 they ranged from 4.2 to 6.4%.
The existence of these experimental bovine lines has instigated studies on candidate genes, with the goal of detecting polymorphisms that show extreme differences in allele frequencies between lines, which may be linked to phenotypic differences [12–14]. However, genome-wide screening of high-density single nucleotide polymorphism (SNP) panels to detect selection is probably more suitable for revealing genomic regions that have undergone selection in this population and should help to understand the genetic mechanisms that underlie response to selection. Thus, the aims of this study were (1) to assess the effect of selection within this experimental Nelore population and (2) to scan for signatures of selection left by recent directional selection.
Results and discussion
Polymorphisms and population structure
After QC, the genotyped population was composed of 89, 189 and 485 samples from NeC, NeS, and NeT lines, respectively [see Additional file
1
: Table S1]. The NeC line presented the largest number of monomorphic SNPs and the lowest heterozygosity (Table
2
), which may be due to its smaller effective population size (N
e
) relative to the population sizes of the other two lines. Current N
e
values of 51, 88 and 177 were estimated for the NeC, NeS and NeT lines, respectively, based on the increase in individual inbreeding since the establishment of these lines, according to Gutiérrez et al. [
38
]. However, directional selection in successive generations, as experienced by the NeS and NeT lines, can result in the loss of rare alleles and an increase in apparent inbreeding, which may explain why these three lines that differ significantly in effective population size, present similar proportions of SNPs with a low MAF [see Additional file
2
: Figure S5].
Table 2
Summary statistics for SNPs in the three selection lines
| Line | Monomorphic SNPs (N) | Heterozygosity ± SD |
| --- | --- | --- |
| NeC | 74,896 | 0.26 ± 0.01 |
| NeS | 26,923 | 0.28 ± 0.01 |
| NeT | 9456 | 0.28 ± 0.01 |
The first two principal coordinates obtained from multidimensional scaling (MDS) accounted for 7.88% of the total genomic variance in the subsample used in this study. PC
O
1 completely separates NeC from NeS and NeT, while PC
O
2 partially separates the NeS and NeT lines (Fig.
2
a). The observed variation within each cluster was roughly proportional to its size, although the relatively higher diversity in NeT may be due to the gene flow that occurred in this line. The pattern of dispersion with the two selection lines being separated from NeC suggests that selection might be a significant force leading to genomic differentiation between these lines. However, since it is known that larger numbers of sires were transferred from NeS to NeT than from NeC to NeT, which results in NeS and NeT being more genetically connected, this might also have contributed to the observed pattern.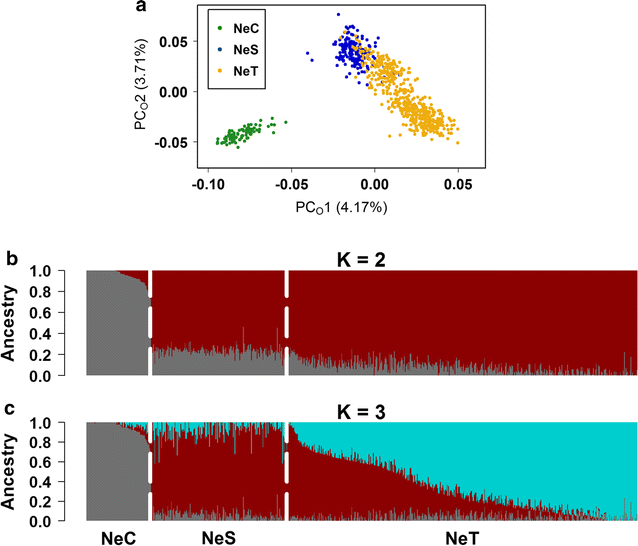 We performed an admixture analysis to estimate the proportions of ancestry in NeC, NeS and NeT with various numbers of clusters (K), which represent hypothetical ancestral populations. When K = 2, the clustering algorithm clearly separated NeC from NeS and NeT (Fig. 2b), and the gene flow into NeT became evident with K = 3 (Fig. 2c). Both MDS and admixture analyses identified NeT animals that showed a high degree of shared ancestry with the NeS cluster (Fig. 2a, c), which is likely due to the possible use of NeS sires for reproduction in the NeT line.
FST is a widely used metric for identifying population differentiation with values ranging from 0 to 1, where values close to 0 indicate more homogeneous populations and values close to 1 indicate more genetically diverged populations. The estimated average FST values in cross-line comparisons were equal to 0.05 ± 0.04 for "NeC vs. NeS", 0.06 ± 0.04 for "NeC vs. NeT" and 0.02 ± 0.02 for "NeS vs. NeT". These results reflect only subtle differentiation on a genome-wide scale, even after 40 years of intensive directional selection, which is consistent with the results of Flori et al. [4], who found minor genomic divergence between evolving lines of a single bovine breed. In spite of the low FST averages, their ranking was consistent with the population structure, with higher values being observed between NeC and one of the lines undergoing directional selection than between the two selection lines.
Signatures of selection
Some interesting genomic regions were detected exclusively based on one of the three metrics. For instance, the signature of selection on BTA6:58,700,000–58,925,000 that was revealed by the FST test overlaps with a previously reported signature of selection in Limousin cattle [5]. The candidate gene located in this region, TBC1D1 (TBC1 domain family member 1), encodes a well-known body weight regulator in several species, including humans, mice, chickens and pigs [59–63], that is directly related to insulin-stimulated glucose uptake in muscle cells [64]. Another candidate signature of selection identified via FST, BTA6:118,650,000–118,800,000, is linked to a QTL for average daily gain that was previously detected in the same population as that used here [16]. This signature of selection could reflect the influence of the selection for YBW on the daily rate of weight gain. This region includes the PSAPL1 (prosaposin-like 1) gene and coincides with a copy number variant (CNV) region reported in Nelore cattle [65]. Previous studies have indicated a high level of coincidence between signatures of selection and CNV regions in cattle, which suggests that CNV may have a role in recent selection [66, 67].
Three of the signatures of selection detected via XP-EHH in our study (BTA14:77,975,000–78,875,000, BTA14:80,525,000–84,675,000 and BTA16:69,100,000–70,900,000) correspond to signals of recent positive selection that were previously reported in Nelore cattle [68]. In addition, the XKR4 (XK related 4) gene resides in the signature of selection on BTA14:24,150,000–24,300,000, which is a well-characterized gene associated with growth traits in cattle, including Nelore birth weight and meat tenderness [43, 57].
In addition to the signatures of selection that could be associated with directional selection for growth, the iHS test revealed signatures of selection that represent historical selection for attributes that have become fixed in the Nelore breed. For instance, the signature of selection on BTA23:25,450,000–25,625,000 overlaps with the Bola DR-alpha gene, which is involved in the bovine immune system and may be related to adaptation and high resistance to parasites. In addition, the signature of selection on BTA14:30,850,000–31,650,000 coincides with a QTL that was reported in the Nelore breed [69] and affects alignment and appropriate angles of feet and legs, which are phenotypes that have been strongly selected for in animals registered with the Brazilian breed association ever since the breed was first established in the country.
Conclusions
We describe a genomic scan in an indicine breed that has been selected for growth traits and is crucial for beef production in tropical environments. Our findings demonstrate that genetic stratification has occurred in this experimental Nelore population due to almost four decades of divergent selection. Three complementary approaches for the detection of signatures of selection were used to identify candidate regions on the autosomes, most of which overlapped with or were near known QTL and candidate genes that affect essential economic traits of beef cattle. The panel of identified loci includes well-known genes related to growth traits, such as TBC1D1, CRH, and XKR4, as well as novel candidates, such as COL14A1, PSAPL1 and CPT1C1. The candidate signatures of selection and the list of candidate genes presented here provide a basis to better understand the metabolic mechanisms that underlie the growth traits, which have been modified by selection for YBW. Moreover, these results provide candidate genes for further fine-mapping studies.
Declarations
Authors' contributions
Conceived and designed the study: HT, FB, LGA, JNSGC and MEZM. Funding acquisition: LGA. Formal analysis: DFC. Support for data analysis: GCV, CR, DCBS, SQ, ME, GMFC, AVN. Guided the research: HT and HS. Original draft: DFC. All authors contributed to the interpretation of the results. All authors read and approved the final manuscript.
Acknowledgements
The authors are grateful to the APTA Beef Cattle Center - Institute of Animal Science (IZ) for providing the data and biological material used in this study.
Competing interests
The authors declare that they have no competing interests.
Ethics approval
This study was approved by the Ethics Committee on Animal Use (CEUA) of the Faculty of Agrarian and Veterinary Sciences, Sao Paulo State University (UNESP), under Protocol Number 18340/16.
Funding
This work was supported by the Sao Paulo Research Foundation (FAPESP), with Grant 2009/16118-5 for financial support; and Grants 2012/24600-4 and 2014/13445-3 for the first author.
Publisher's Note
Springer Nature remains neutral with regard to jurisdictional claims in published maps and institutional affiliations.
Open AccessThis article is distributed under the terms of the Creative Commons Attribution 4.0 International License (http://creativecommons.org/licenses/by/4.0/), which permits unrestricted use, distribution, and reproduction in any medium, provided you give appropriate credit to the original author(s) and the source, provide a link to the Creative Commons license, and indicate if changes were made. The Creative Commons Public Domain Dedication waiver (http://creativecommons.org/publicdomain/zero/1.0/) applies to the data made available in this article, unless otherwise stated.
Authors' Affiliations
(1)
Department of Animal Science, Faculty of Agrarian and Veterinary Sciences, Sao Paulo State University, Jaboticabal, Brazil
(2)
National Counsel of Technological and Scientific Development (CNPq), Brasília, Brazil
(3)
Animal Breeding and Genetics Group, Department of Animal Sciences, University of Goettingen, Goettingen, Germany
(4)
Institute for Animal Breeding, Bavarian State Research Center for Agriculture, Grub, Germany
(5)
APTA Beef Cattle Center, Institute of Animal Science, Sertãozinho, Brazil