A comparison of methods for whole-genome QTL mapping using dense markers in four livestock species
Genetics Selection Evolution
2015
47:6
Received: 10 January 2014
Accepted: 6 January 2015
Published: 12 February 2015
Abstract
Background
With dense genotyping, many choices exist for methods to detect quantitative trait loci (QTL) in livestock populations. However, no across-species study has been conducted on the performance of different methods using real data. We compared three methods that correct for relatedness either implicitly or explicitly: linkage and linkage disequilibrium haplotype-based analysis (LDLA), efficient mixed-model association (EMMA) analysis, and Bayesian whole-genome regression (BayesC). We analyzed one chromosome in each of five datasets (dairy cattle, beef cattle, sheep, horses, and pigs) using real genotypes based on dense single nucleotide polymorphisms and phenotypes. The P values corrected for multiple testing or Bayes factors greater than 150 were considered to be significant. To complete the real data study, we also simulated quantitative trait loci (QTL) for the same datasets based on the real genotypes. Several scenarios were chosen, with different QTL effects and linkage disequilibrium patterns. A pseudo-null statistical distribution was chosen to make the significance thresholds comparable across methods.
Results
For the real data, the three methods generally agreed within 1 or 2 cM for the locations of QTL regions and disagreed when no signals were significant (e.g. in pigs). For certain datasets, LDLA had more significant signals than EMMA or BayesC, but they were concentrated around the same peaks. Therefore, the three methods detected approximately the same number of QTL regions. For the simulated data, LDLA was slightly less powerful and accurate than either EMMA or BayesC but this depended strongly on how thresholds were set in the simulations.
Conclusions
All three methods performed similarly for real and simulated data. No method was clearly superior across all datasets or for any particular dataset. For computational efficiency and ease of interpretation, EMMA is recommended, but using more than one method is suggested.
Keywords
Quantitative Trait LocusQuantitative Trait Locus MappingBeef CattleQuantitative Trait Locus RegionQuantitative Trait Locus Effect
Background
Many methods to detect and localize quantitative trait loci (QTL) in humans and animals are reported in the literature. Current methods work on the basis of identity, either by descent or by state, at either single nucleotide polymorphisms (SNPs) or a short series of SNPs (i.e., a haplotype). Current state-of-the-art methods, especially in human genetics, use a consecutive series of single-marker tests (e.g. association analysis), often corrected by stratification or coancestry [1-4]. The high density of molecular markers ensures that common QTL variants of medium effect will be captured by random linkage disequilibrium of close markers. However, for certain cases, such as causal QTL that are rare variants, simultaneous consideration of consecutive loci (e.g. haplotype association or linkage analysis) can be more powerful or accurate than locus-by-locus analysis (e.g. [5]). In addition, recent research has proposed fitting all markers simultaneously to better model the genetic background and thus improve the analysis [6-8]. Sahana et al. [9] used simulation to compare methods, but comparison of QTL mapping methods using real data has not been reported in animal genetics. The purpose of this study was to compare methods for QTL detection and localization based primarily on real datasets for five traits and four species and complemented with some simulations that mimicked the real data.
Three state-of-the-art methods were compared: LDLA (linkage disequilibrium and linkage analysis), a method that considers haplotypes clustered by approximate identical-by-descent probabilities [10]; EMMA (efficient mixed-model association), a regular single-marker association analysis method for a genome-wide association study (GWAS) but with correction for relatedness in the population [3,11,12]; and BayesC, a Bayesian method that fits effects of all SNPs simultaneously [13]. We examined the following features: number of positive signals, agreement of location of positive signals between the methods, shape of signals, and redundancy of test statistics between neighbouring positions. Data-based simulation was used to characterize method properties (power, accuracy, and false discovery rate) under a pseudo-null hypothesis that considered presence of a QTL effect.
Methods
Several research projects in the INRA (French National Institute for Agriculture Research) Animal Genetics division have generated a number of datasets that include SNPs and phenotypes. For this study, we considered a variety of distinct experimental designs and species. First, we chose and analyzed chromosomes on which at least one QTL (but not a very large one) had already been detected using the datasets. Then, we considered populations with different family structures: very related (cattle), minimally related but with structure (horses), structured in breeds (pigs), and breed crosses (sheep).
Results
Data analysis
Manhattan plots of QTL signals for the three detection methods are shown for each data set in Figures
1
,
2
,
3
,
4
and
5
.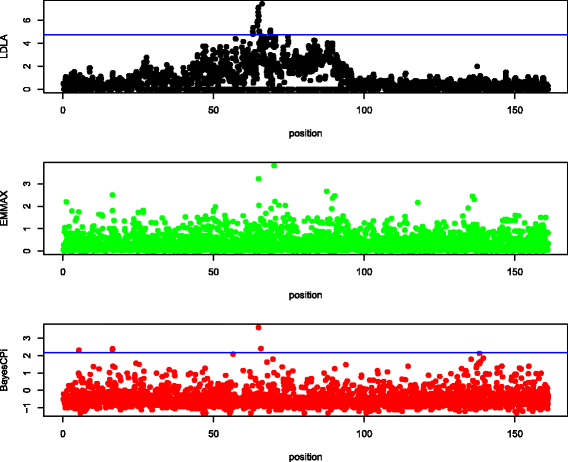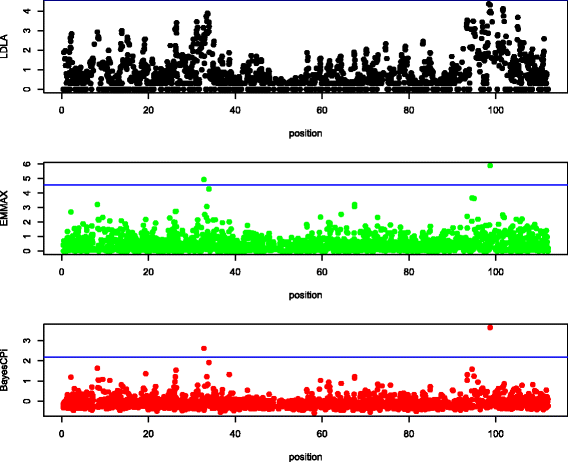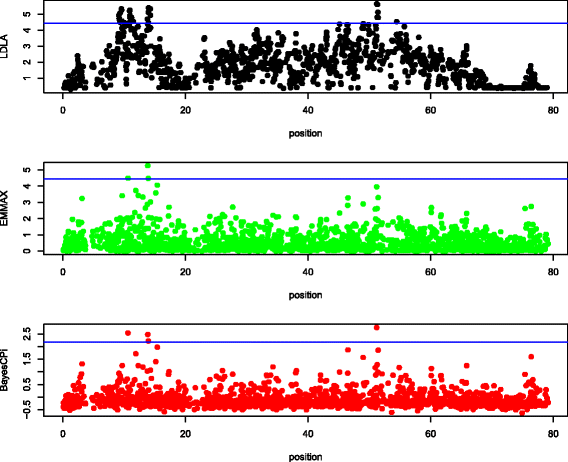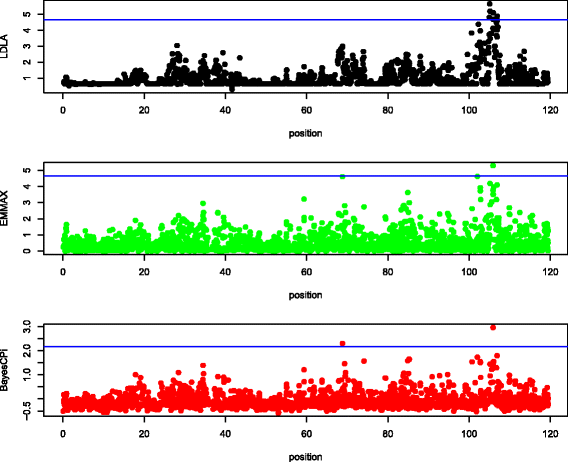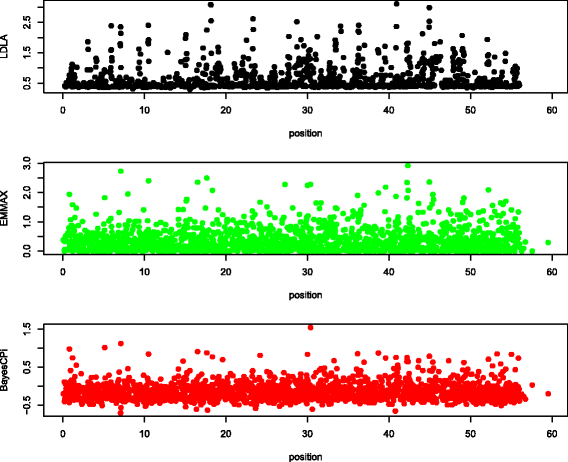 Numbers of positive signals
Table
3
shows the numbers of significant QTL positions detected. These numbers should be regarded with caution because the actual numbers of QTL are not known. Of the three methods, LDLA had the largest number of signals for dairy cattle, horses, and sheep. For beef cattle and pigs, no significant association was found using any of the three detection methods.
Table 3
Numbers of significant positions detected for quantitative trait loci by species and detection method
| Method | Dairy cattle | Beef cattle | Sheep | Horses | Pigs |
| --- | --- | --- | --- | --- | --- |
| LDLA* | 20 | 0 | 29 | 6 | 0 |
| EMMA** | 0 | 2 | 3 | 1 | 0 |
| BayesC*** | 6 | 2 | 4 | 2 | 0 |
Agreement
Because the objective of QTL mapping is not only to detect QTL but to provide locations for further investigation by molecular geneticists, agreement of the location of positive signals between the three detection methods was evaluated. Informal visual agreement between methods is evident from Figures 1, 2, 3, 4 and 5. Additional Tables S1, S2, S3, S4 and S5 [See Additional file 1: Tables S1, S2, S3, S4 and S5] show exact locations and statistics for the two major signals found in each analysis. For example, the dairy cattle data showed a QTL across methods in a window of 2 cM around 65 cM and beef cattle data show agreement between methods of a QTL around 32 and 98 cM, etc. For sheep and beef cattle, the figures show more agreement than the additional tables, because the peaks in agreement may be first or second highest signals in one method but third or fourth highest signals in another. Only the pig dataset did not show clear agreement for detected QTL, but no significant positive signals were found for pigs. We believe that the true signals that were present in these datasets were found by all methods (within a bracket of 1 to 5 cM) and that false signals were random noise and, therefore, without agreement.
Redundancy
Estimates of the numbers of independent tests are in Table
4
. Redundancy increased with family structure (
i.e.
number of half- and full-sibs within family); e.g. in horses, the large number of small families resulted in low redundancy. In general, LDLA tended to be the most redundant (i.e. a small number of independent tests). Redundancy was less for EMMA and BayesC than for LDLA because (1) haplotypes (or haplotype structure) are highly correlated from one position to the next (but SNP effects are not) and (2) LDLA is partly family (linkage) based (but EMMA and BayesC are not). In addition, BayesC estimators are marginalized over all other loci.
Table 4
Numbers of independent tests by species and detection method
| Method | Dairy | Beef | Sheep | Horses | Pigs |
| --- | --- | --- | --- | --- | --- |
| LDLA* | 237 | 183 | 153 | 978 | 380 |
| EMMA** | 2323 | 1082 | 770 | 968 | 1672 |
| BayesC*** | 2390 | 1889 | 1108 | 1303 | 1509 |
Simulations
Quality indicators for QTL detection methods are in Table
5
as least-squares means (estimated marginal means over a balanced design across all other simulation factors [
34
]). The LDLA method had not only lower power but also higher MSE and FDR. The EMMA and BayesC methods were clearly superior to LDLA in the simulations, regardless of scenario or simulation factor (data not shown).
Table 5
Estimated mean squared errors (MSE), power, and false discovery rates (FDR) of detection methods across simulation factors
| Method | MSE | Power | FDR |
| --- | --- | --- | --- |
| BayesC* | 0.22 | 0.36 | 0.007 |
| EMMA** | 0.21 | 0.36 | 0.006 |
| LDLA*** | 0.39 | 0.26 | 0.017 |
Discussion
Overall, the results were similar with the three QTL detection methods. The Manhattan plots had similar profiles and indicated the same QTL locations for significant (or close to significant) points. None of the methods appeared to produce spurious peaks because of population stratification. All three methods accounted for relationships either through pedigree or genome-wide markers.
Table 3 suggests that LDLA is more powerful than EMMA or BayesC. However, in Figures 1, 2, 3, 4 and 5, some multiple signals obtained with LDLA corresponded to a single peak obtained with EMMA and BayesC, which suggests that many LDLA signals echo a single QTL. This makes sense because the covariance structure for haplotypes changes little from one position to another (as evident in Table 4); i.e. LDLA uses linkage information. All QTL regions that were detected by LDLA were also detected by EMMA and BayesC; thus, LDLA was not more powerful than EMMA or BayesC.
The performance of the methods differed slightly between the real and the simulated data. For example, LDLA produced more positive signals with real data than EMMA and BayesC. In contrast, for simulated data (Table 5), LDLA was the least powerful method. Several explanations for this contradiction are possible. One is that only one QTL was simulated, whereas many potential QTL exist in the real data. Another explanation is that LDLA produces several correlated signals for a single QTL, as discussed previously. Still another explanation is that the nominal threshold used for the real data was too liberal and, therefore, produced false positives. The threshold to be used for the real data is also debatable (e.g. [35]). Although a reasonable consensus exists on how to calculate a threshold under a strict null hypothesis (no QTL on the chromosome), such a hypothesis is nonsensical because biologically there must be many, possibly small QTL on each chromosome. Therefore, a pseudo-null hypothesis was used for our simulations. As an example of the problems caused by the use of rejection thresholds, the two highest (although non-significant) peaks of EMMA in Figure 1 agree with the significant peaks obtained with LDLA and BayesC. In Figure 2, (non-significant) results from LDLA agree with results from the other methods. Therefore, no one method is clearly the most powerful for a given dataset because the ideal rejection threshold depends on the true genetic architecture of a dataset. Thus, a common sense approach is to use several different methods for QTL detection.
For QTL location, the methods were in agreement for the real data. This was as expected because the chromosomes were suspected to contain QTL. For the pig data, no agreement for QTL location was found among the methods, but no signals were significant; using several methods and obtaining no significant signals indicates the absence of detectable QTL for this dataset. However, for the beef cattle data, no significant QTL were found with LDLA but significant QTL were evident when using EMMA and BayesC.
The results from the BayesC and EMMA methods agreed to a very large extent for the real and simulated data because they both model each SNP as having an effect. The complexity of BayesC and lack of a consensual rejection threshold for BayesC might make EMMA preferable. If BayesC is used, Bayesian testing (i.e. using BF) is recommended, since it produced results that are comparable within and across datasets.
Finally, LDLA results in a more correlated structure of signals across the genome. This was evident as less power and accuracy in QTL mapping with simulated data but was not clear in the real data. Therefore, the larger number of independent tests found for EMMA and BayesC does not necessarily imply greater accuracy.
Some discussion about the scope of this work is also needed. Many studies have compared QTL detection methods based on simulations. In those simulations, the QTL location and action are precisely described. However, very little is known about QTL action in real data and, thus, such simulations tend to provide incomplete results because they do not account well for the range of possible gene actions. Phenomena such as self-regulation, epistasis, and pleiotropy are particularly difficult to simulate. Our study, which was based on real data, attempts to address the question of whether analysis of a dataset with another method will provide a different result. We have given some empirical answers to this question.
Conclusions
All three methods (haplotype-based, association analysis with relationship matrices, and Bayesian analysis) were suitable for QTL detection. Using several methods for the same dataset is recommended. EMMA was easier to use and had slightly higher accuracy and power for both real and simulated data. For QTL with large signals, the methods agreed well. Establishment of significance thresholds is difficult because it is unclear what the null hypothesis should be [35]. The use of nominal P values corrected for multiple-testing for the frequentist methods and of BF for the Bayesian method resulted in acceptable statistical properties and led to similar conclusions across methods and datasets.
Declarations
Acknowledgements
Most of the research was funded by the French National Research Agency (ANR, Paris, France) program Rules & Tools. All data were acquired with funding by APISGENE (Paris, France) and the following grants. Dairy cattle data were funded by ANR grant CARTOFINE. Beef cattle data were funded by the QUALVIGENE program supported by ANR (Contracts n°05-GANI-017-04, ANR-GANI-017, ANR-06-GANI-001), the Office de l'Elevage (Montreuil sous Bois, France), and the Fonds National de l'Elevage (Paris, France). Sheep data were funded by ANR program SHEEPSNPQTL and European grant 3SR. Horse data were funded by ANR program GENEQUIN, the Fonds Eperon, the French Horse and Riding Institute (IFCE), and the Basse-Normandie Regional Council. Pig data were funded by ANR programs Delisus (ANR-07-GANI-001) and Immopig (ANR-06-GANI-008) as well as BIOPORC (ADN, Nucleus and Gene + breeding organizations). We are grateful to the Genotoul bioinformatics platform Toulouse Midi-Pyrénées for providing computing and storage resources. We thank Suzanne Hubbard for technical editing of the manuscript. Editors and reviewers are acknowledged for useful comments and suggestions.
Authors' Affiliations
(1)
INRA, UMR 1388 GenPhySE, BP52627, Castanet Tolosan, France
(2)
INRA, UMR 1313 GABI, Domaine de Vilvert, Jouy-en-Josas, France
(3)
Current address: RAGT-R2n, Le bourg, Druelle, France
(4)
INRA, UMR1282 Infectiologie et Santé Publique, Nouzilly, France
(5)
Université François Rabelais de Tours, UMR1282 Infectiologie et Santé Publique, Tours, France
(6)
Agrocampus Ouest, UMR1348 Pegase, Rennes, France
(7)
INRA, UMR1348 Pegase, Saint-Gilles, France
(8)
Université Européenne de Bretagne, Rennes, France
(9)
UNCEIA, Genetics Team, Paris, France
(10)
Recherche et Innovation, IFCE, Paris, France
Copyright
© Legarra et al.; licensee BioMed Central. 2015
This is an Open Access article distributed under the terms of the Creative Commons Attribution License (http://creativecommons.org/licenses/by/2.0), which permits unrestricted use, distribution, and reproduction in any medium, provided the original work is properly credited. The Creative Commons Public Domain Dedication waiver (http://creativecommons.org/publicdomain/zero/1.0/) applies to the data made available in this article, unless otherwise stated.